Professional organizer Jeni Aron, dubbed the "Clutter Cowgirl," knows a thing or two about making the most of small spaces. For ten years, she's been helping New Yorkers clean up their mess and store the rest. We caught up with Jeni in the middle of her daily de-cluttering to ask a few questions about her (occasionally) dirty job.
Why "Cowgirl?" Did you grow up on a ranch?
Haha. No, I grew up on small town on Long Island. But I thought "Cowgirl" kind of has a funny connotation, and to do something gritty that's on people's procrastination pile, I wanted to make it fun. Plus, I love alliteration.
What made you want to become a professional organizer?
I think I was always a professional organizer, even when I was a young kid. I just always created places for my things. I wasn't very sentimental about things I held onto, and I was very good at helping other people like my mother get rid of things. As an adult, I just gradually helped more friends. And as the idea of organizing became more popular on TV and in popular culture, it became more of a reality, and I was able to make it a career.
What's the weirdest clutter situation you ever had to tackle?
The client was completely lovely and amazingly gentle and sweet. But it turned out that he was into bondage. He must have had at least a hundred yards of rope in his beautiful Chelsea apartment. (And he was straight, by the way.) This man had his fetish, but the way he presented it to me was so polite and respectful. Like we came across the rope, and I was like, "Oh, we'll just put this in the S & M pile." For the record, I've never dated a client.
Are some of the places you're hired to organize just downright filthy?
Yeah, because a lot of people who are disorganized are stuck with everything in their home. So they're also not getting around to cleaning. A lot of times I use that as an incentive, I'll say, "You know, the quicker we get organized, the quicker we can get your cleaning lady in here!" But in terms of working with hoarders, I don't happen to work with that population. There are trained professionals who do that. People can go to the National Association of Professional Organizers at www.NAPO.net if they want to find good resources for that kind of thing.
Is your own home constantly neat and organized?
I'm lucky enough to live alone, so I have systems, and the systems work for me. It's something I'm good at, and I enjoy having order in my home. But there are definitely little nooks and crannies in each apartment, including my own, that need special attention. So I keep up with them, because it would be pretty sad if Clutter Cowgirl were living as a secret hoarder.
What's the biggest challenge for New Yorkers in cutting through the clutter?
Most people might say space, but I think it's time. A lot of New Yorkers don't have the extra handfuls of hours a week to organize. So if you're going to do it on your own, set a timer for an hour and only organize for that one hour so you don't get burned out. Tackle that pile before you move on to the next one. And yes, space is also an issue, and that's why storage is a terrific solution to create more space in your life.
Give us one tip easy tip that anyone can follow to make their space more manageable.
Don't bring the mail into your home. Sort through it at the mailbox, and throw the junk out right there. Sometimes you'll walk back in to your apartment with nothing!
You're a stand-up comic, too. Do you have any organizing jokes for us?
I don't. Because it's not very funny, unfortunately. But if I think of one, I'll email it to you. I do always say to my clients, as they're hemming and hawing about getting rid of something, "You're better than that." And that usually makes them smile.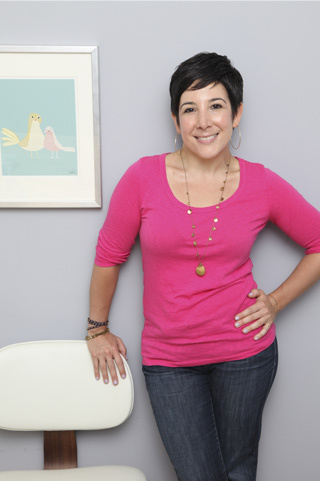 To learn more about Jeni Aron's organizing services, visit www.ClutterCowgirl.com. And if you mention Manhattan Mini Storage when you contact Jeni, she'll give you ten percent off her regular rates for your first visit!